Providing market beating online subscription-based Advisory Services for Active Investors and Traders since 2009.
Stock, 3x ETF, and  SP 500 Futures Swing Trading Services via subscription
---
Quick Subscription Services Links: (More details lower on the page)
---
Hi Dave,
It's been quite a while since I've checked in. I hope all's well with you. Couple weeks ago I re-upped for my 2nd year in SRP. Just wanted to say thanks for all the excellent trade alerts over the past year. I'm really enjoying your service as a valuable component of my overall market approach. I've also noticed that you don't go crazy with new alerts when the market/sentiment is iffy, which is impressive. Great job (not that you need me to tell you that!)- Matt Shearer
"You are the "real deal" in all my time trying out newsletters, you are by far the best! 

Thanks again" , Don Smith- SRP Member  
"Hi Dave – Awesome trading for many weeks now!  If you need a referral (not that you do), send folks my way and I'll be happy to recommend they join ASAP (already have done so on another to 2 guys in the last couple of weeks).  I'm in 4 of your services, SRP, TPS, 3xETF and E Mini". 
 "I've mentioned it before, but it's worth mentioning again. I've been a subscriber in three of Dave's services – SRP, TPS and 3xETF for about a year now. Because I feel so highly in regards to Dave's services and the performance I've experienced; my daughter, my brother and another friend have become subscribers to at least one of his services. I'm working on a couple other people as well? Dave thanks so much for all you do!"   JTD26 on Stocktwits
---
" Thank you Dave!… In my books you're one of the best … I've been a SRP/Tipping Point/ 3X member for at least two years now and I will dare to say that I now trust Dave 100%. All I can say is, Do what Dave tells you! Period" @clearspan Stocktwits 
---
"By the way I want to thank you once again for the amazing service you are offering…Have been a member of SRP for more than 4 years and I really have no words…only huge respect and gratitude…my account keeps growing steadily and consistently…it's really a blessing for me and my family…The 3xETF service is a huge additional value to my portfolio and I plan to join more of your services very soon…" Bill L. 3x ETF and SRP Member
---
Track records published on all closed trades for all services.
---
Nov 1st 2020 Podcast: Dave discusses how he uses Behavioral patterns combined with fundamental analysis to enter and exit profitable swing trades.  Discussion on Elliott Wave Theory, Position Sizing, Timing and more. Discover how Dave's unique contrarian methodology helps produce consistent results in all market cycles.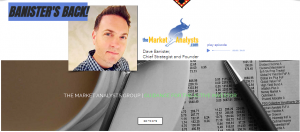 ---
The Market Analysts Group, LLC was formed in 2009 to provide Market Forecasting and Swing Trading expertise via subscription services to members.  We cover SP 500 Futures Trading, Growth Stock Research and Investing, Stock and 3x ETF Swing Trading services, plus Behavioral based Stock Market Forecasting!

David Banister is also featured on Stocktwits as a Premium Trading Room Advisor for both 3x ETF and SP 500 Futures with stunning track records on both services. The only member of Stocktwits with 2 Premium Rooms (3 Million users)
---
Our Chief Strategist, Dave Banister,  has been a featured writer and guest on TheStreet.com regarding Gold forecasting with Alix Steele.

David is widely followed and known as "Stockreversals" on Stocktwits.com with 65,000 followers (@stockreversals)
---
David was a regular contributor on CBSMarketwatch.com with Thom Calandra in the early 2000's covering small cap stocks.

David also has written extensively about Gold on Kitco.com, been quoted on Bloomberg, and is a Seeking Alpha certified contributor as well as an author of articles at multiple investor websites.
---